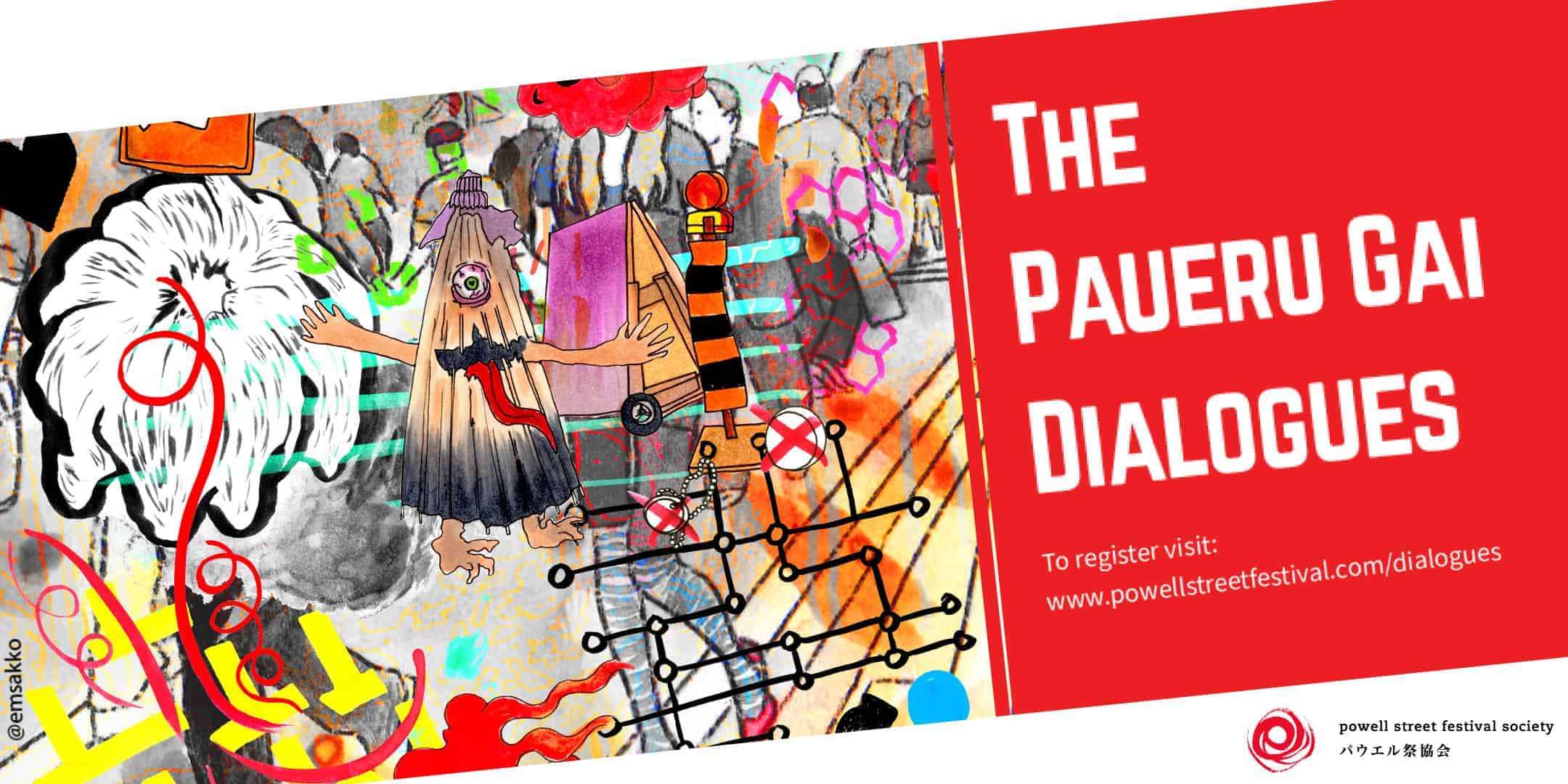 THE PAUERU GAI DIALOGUES
Powell Street Festival Society announces an online program, The Paueru Gai Dialogues. In a series of 9 online events, BIPOC artists and activists will share their perspectives on current social issues. The project intends to inspire civic engagement and community building during the disruption of the enduring pandemic.
Executive director Emiko Morita says, "The Black Lives Matter protests and the widening gap between the privileged and marginalized populations have been amplified by the global health crisis. We cannot wait for the pandemic to pass to respond to these needs; this is the opportunity to create safe spaces where we can challenge ourselves to listen to difference and to deepen our understanding of ourselves and others, and to find ways to use any privilege that we might have for positive change." Morita continues, "It is exciting to consider that we might take this moment to move beyond our Internment/model minority narrative, and to explore questions of accountability as settler-colonizers as we continue to grapple with our own history of displacement."
Regarding the format of the event, Morita says, "We know 'Zoom fatigue' is a thing and we don't want to waste people's time. The Paueru Gai Dialogues is a free event but it does include an expectation of the audience/participants."
After the panelists give 7–10-minute presentations that share their perspective on the dialogue topic, the participants will go into breakout groups. Participants will be asked to share their own experience or perspective on the given topic and to listen to the others in their group. Of course, the participant to choose to pass and the group facilitator will ensure the space promotes safety and inclusion for everyone. To wrap up the event, participants will reconvene to offer generative questions for further contemplation.
The Bulletin will be featuring a regular column reflecting on the Paueru Gai Dialogues throughout 2021. 
The Paueru Gai Dialogues #1
Catalyzing Social Equity through Culture & Connection to Place
Date: January 30, 2021
Time: 1PM – 3PM PST / 4PM – 6PM EST


Free admission. Registration Required. Please click below to register: 
Guest host Izumi Sakamoto will facilitate a discussion with three panelists — Ayumi Goto, Kathy Shimizu and Terry Watada — as they share their perspectives on how cultural heritage and connection to place impact an artistic practice. Participants will join breakout groups to share their own experiences and to consider how Japanese Canadian art and culture might advance social justice. To wrap up the event, everyone will reconvene to offer questions for further contemplation.  
Guest Host Izumi Sakamoto is Associate Professor, Factor-Inwentash Faculty of Social Work, University of Toronto. A former Fulbright Scholar, she received MSW, MS (Social Psychology) and Ph.D. (Social Work & Psychology) from University of Michigan and BA and MA from Sophia University, Japan. 
Ayumi Goto is a performance artist, currently based in Toronto, traditional territories of the Haudenosaunee Confederacy, Huron Wendat, Anishinaabe, and Missisaugas of the Credit First Nations. Born in Canada, she often draws upon her Japanese heritage and language to creatively challenge sedimented notions of nation-building, cultural belonging, and activism. Working collaboratively, she explores land-human relations, in-betweenness, collective responsibility, and spatial-temporal play. Ayumi is currently a Post-Doctoral Fellow at the Ontario College of Art and Design University in Toronto. 
Kathy Shimizu is a sansei, graphic and web designer, artist, and community organizer. She has worked for the Powell Street Festival Society in various roles since 1991, is a co-founder, collective member, and administrator of WePress, serves on the Greater Vancouver Japanese Canadian Citizens' Association Human Rights Committee and is a member of Sawagi Taiko. She works to use the importance of history, and the power and joy of arts and culture, to build community, fight for social justice and change, and help create space for the voices of communities and individuals marginalized by                                                      our existing systems. 
Terry Watada is a writer, poet, and one-time musician. His latest publications are The Four Sufferings (poetry, Mawenzi House Press, Toronto, 2020) and The Mysterious Dreams of the Dead (novel, Anvil Press, Vancouver, 2020). Many of his writings reflect upon his Japanese Canadian identity and several of his book are set in the historic Japanese Canadian community of Paueru Gai/Downtown Eastside neighbourhood. He was a featured performer at the inaugural Powell Street Festival in 1977 and has been a supporter ever since. 
The Paueru Gai Dialogues #2
On Food & Culture for Collective Resilience Place 
Date: February 27, 2021
Time: 1PM – 3PM PST / 4PM – 6PM EST


Free admission. Registration Required. Link to register still to come…
More information to come…
The Paueru Gai Dialogues #3
On Social Disruption and Community Resilience 
Date: March 27, 2021
Time: 1PM – 3PM PST / 4PM – 6PM EST


Free admission. Registration Required. Link to register still to come…
More information to come…
The Paueru Gai Dialogues #4
More information to come…
The Paueru Gai Dialogues #5
More information to come…
The Paueru Gai Dialogues #6
More information to come…
The Paueru Gai Dialogues #7
More information to come…
The Paueru Gai Dialogues #8
More information to come…
The Paueru Gai Dialogues #9
More information to come…